PART 1: Clean Living - 5 Non-Toxic Cleaning Solutions for a Healthier Home
If you run a website, chances are you already have a blog. And if you don't, maybe you should start one. A blog can boost your brand awareness, increase conversions, and improve customer service.
Blogs help you connect with your audience on a more personal level and allow them to interact with you in an individual capacity. Blogging also helps to present viewers with fresh content regularly.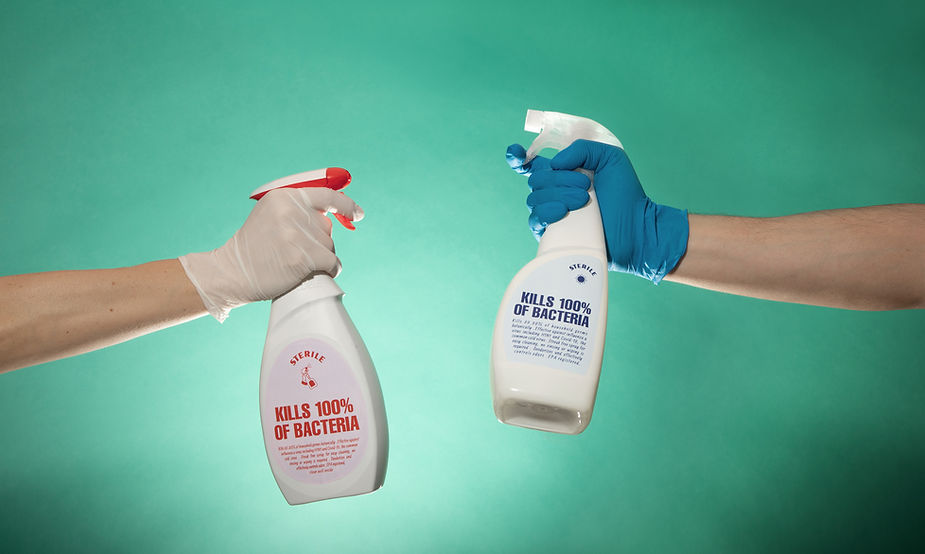 *This is part 1 of 2 about healthy household cleaning solutions.
Cleaning our homes is an essential part of maintaining a healthy and hygienic environment, but many traditional cleaning products can be harsh, full of chemicals, and harmful to our health and the environment. Currently, the European Union has banned the use of over 1,600 chemicals used in personal care products that are currently used in the United States and there is discussion to ban up to 12,000 additional toxic chemicals. According to the American Lung Association, the ingredients in some household cleaning products can cause health problems such as headaches, irritation of the eyes and throat, respiratory problems, allergic reactions, and even cancer. And the Environmental Work Group (EWG) has found more than 2,000 cleaning supplies on the American market that have been found to contain substances linked to serious health problems, including some of the following:
Formaldehyde: A known carcinogen that can cause skin and respiratory irritants. Formaldehyde is a cancer-causing chemical found in cleaning products, personal products and even furniture. Exposure to formaldehyde vapors can also produce a variety of short-term symptoms such as: headaches, itchy and/or burning eyes and nose, asthma, respiratory difficulties, depression, insomnia, mental confusion, epistaxis (nose bleed), rashes, joint pains, disorientation, fatigue, laryngitis/hoarseness, nausea and vomiting. People with asthma and hyper-reactive airways are especially susceptible to formaldehyde exposure.

Phthalates: A group of chemicals found in personal care products, plastics, and vinyl that are known to affect the endocrine system, reproductive health and cause cancer.

VOCs (Volatile organic compounds): A gas that is emitted into the air and is often found in home and personal products, gasoline, glue and permanent markers that cause eye and nose irritants, trouble breathing, damage to the nervous system and other organs, and can cause cancer.

Cyclotetrasiloxane: A silicone product used in cosmetics, personal care (sunscreen, shampoo, condition, pomades, etc), and hair products that have been found to affect fertility.

1,4-dioxane: A solvent found in some cosmetics and numerous name-brand cleaning supplies and laundry detergent which has been found to cause headaches, eye, nose, and throat irritation, as well as liver and kidney damage.

Sodium Lauryl Sulfate (SLS) and Sodium Laureth Sulfate (SLES): These are surfactants commonly used as an emulsifying cleaning agent in household cleaning products (laundry detergents, spray cleaners, and dishwasher detergents), which helps keep the product mixed up and helps them create lather. Oftentimes they are synthetically derived and have the potential to cause skin irritation.

Ethanolamines (MEA, DEA, and TEA): These are chemicals that are widely used in many household and personal care products, such as soaps, shampoos, shaving creams, etc, and have been linked to organ system toxicity, bioaccumulation, and even cancer.

Triclosan: An antimicrobial ingredient found in many antibacterial soaps, hand sanitizers, and detergents as well as some toothpastes, deodorants, cosmetics, plastics, and more. It can affect the thyroid and endocrine system and was recently banned by the FDA to be used in "antiseptic washes" but can still be found in some other products like toothpaste, cosmetics, and even clothing, kitchenware, furniture, and toys.

Fragrance: The word "fragrance" can appear on a label and contain an enormous list of ingredients that a company is not required to disclose, as it is considered a "trade secret." That means a product could contain some awful ingredients and the consumer wouldn't even know. These chemicals could be linked to cancer, reproductive and developmental toxicity, allergies and sensitivities.

Fortunately, there are several holistic cleaning alternatives available that can help you achieve a spotless home without compromising your health (or your wallet!). Below are five holistic cleaning solutions to common cleaning products with brand names to consider, along with a few ways to use them for cleaning.
5 Holistic Cleaning Solutions
1. White Vinegar
White vinegar is an excellent alternative to traditional cleaning products, as it is effective at removing stains, disinfecting surfaces, and eliminating bad odors. You can use white vinegar on almost any surface, from countertops to floors. The key is to dilute it with water and any other natural extracts or essential oils to add a lovely scent. Because vinegar is made from acetic acid, it makes it a natural disinfectant for germs including salmonella and E Coli. It can be great for some kitchen surfaces and appliances, as well as in the bathroom. A word of warning, though – undiluted vinegar can damage natural stone and wood, so always check – or dilute really well – before using vinegar for cleaning. Recommended Brands: Heinz or Bragg
Holistic Cleaning Alternatives:
Below, are holistic cleaning alternatives to common household cleaning products.
All-purpose cleaner for windows, counters, and kitchen fixtures
Combine ¼ cup white vinegar, 2-½ cups water, and ½ teaspoon of a dishwashing liquid in a spray bottle. Shake well to mix and label the bottle. To use, lightly spray the soiled surfaces and wipe away grime with a lint-free cloth.
Soap scum remover for the bathroom
Mix equal parts white vinegar, dishwashing liquid, and water in a spray bottle (ex. 1 cup vinegar, 1 cup dishwashing liquid, 1 cup water). Shake well to mix. To use, start at the top of the shower stall or glass doors and spray on the solution. Allow it to work for at least one minute, and then scrub with a soft-bristled nylon brush. Rinse with clean water and dry with a lint-free towel.
Clean floors (including most hardwood floors, luxury vinyl tile, and laminate wood floors)
Fill a bucket with 1 gallon of warm water and ½ cup white vinegar. Use a sponge or microfiber mop, wringing well to prevent over-wetting the floor. Rinse the mop head often. There's no need to rinse; the solution will not leave residue or streaks.
2. Baking Soda
Baking soda is another versatile natural cleaning product that can be used for everything from scrubbing pots and pans to cleaning sinks and bathtubs. It is a gentle abrasive that can effectively remove dirt and stains without damaging surfaces. When applied to messes around the house, this powdery substance acts as an odor-absorber and a mild abrasive that can quickly loosen stuck-on gunk without damaging the surface. Recommended Brands: Arm & Hammer and Bob's Red Mill
Holistic Cleaning Alternatives:
Below, are holistic cleaning alternatives to common household cleaning products.

Clean kitchen grease
Place dirty pans in a sink or small tub. In a separate pot, pour enough vinegar to cover pans and bring to a boil. Sprinkle baking soda on the pans and add the boiling vinegar. Let the mixture sit for 30 minutes. Wipe with a wet sponge and rinse. Repeat as needed.
Polish kitchen appliances/remove water stains from utensils/clean tile grout
Place ¼ cup baking soda in a small glass bowl and mix in enough hydrogen peroxide to create a paste. Add paste to polish kitchen appliances, remove water stains from utensils, or clean title grouts. Rinse with water and dry with microfiber cloth.
Laundry Boost- whiten and brighten colors
Add 1/4 cup of baking soda to each laundry load along with your regular detergent. This trick can also help lift odors from dirty clothes.
Refresh carpet
Avoid the chemicals in the store-bought carpet deodorizers and make your own! Shake some baking soda onto the carpet, let it sit for 15 minutes, and vacuum to remove the baking soda. For a fragrance boost, add a few drops of your favorite essential oil (I love to add a few drops of lavender or lemon essential oil) to the baking soda before you sprinkle it on.
Tip

: To test baking soda, place a few tablespoons of vinegar in a small dish or measuring cup, then stir in about a teaspoon of soda. The mixture will immediately begin to fizz if the soda is still active; if there's little to no reaction, it's time to buy a new container.
3. Castile Soap
Castile soap is a gentle and natural alternative to traditional dish soap and hand soap. It is made from plant oils, such as coconut or olive oil, and is free from harsh chemicals and synthetic fragrances. Recommended Brands: Dr. Bronner's and Pure Castile.
Holistic Cleaning Alternatives:
Below, are holistic cleaning alternatives to common household cleaning products

Toilet Bowl Cleaner
Ditch the potentially harmful fumes from bleach and opt for a mixture of 1 cup of castile soap and 4 cups of water. Spray the mixture all over the toilet and scrub.
Window Cleaner
Castile soap can get the job done on glass too. Just add 1 tablespoon of castile soap to a quart of water in a spray bottle. Spray and wipe, and then spray some soda water on top and wipe again.
Fruits and veggies wash
Castile is a natural cleaner that will be gentle while getting rid of residues, including pesticides. Put ¼ teaspoon of castile soap into a bowl of water. Soak and gently rub the produce. Then rinse it with water for clean produce!
4. Lemons/Lemon Juice
Lemon juice is a natural disinfectant and can effectively remove stains and grime from surfaces. It is also an excellent natural air freshener. Squeeze fresh lemons or look for bottled lemon juice from brands like Santa Cruz Organic or Lakewood Organic.
Holistic Cleaning Alternatives:
Below, are holistic cleaning alternatives to common household cleaning products.

Freshen your Microwave
Deodorize your microwave and make the interior easier to wipe down by adding lemon slices to a bowl of water and heating it on high until the microwave's window is steamy. Let the bowl sit for 15 minutes before you open the door, then clean away any grime and grease with ease.
Remove stains from chopping board
Cut a lemon in half and run the cut side of a lemon over the board to remove food stains and smells. For extra cleaning power, sprinkle it with salt first. If your stains are particularly stubborn, let everything sit overnight before you rinse with water. Wipe wooden boards with food grade oil to seal.
Shine bathroom fixtures
Run the cut side of a halved lemon over taps, drains, and more to remove mineral deposits and make them sparkle! Rinse and dry thoroughly when you're done. However, don't use this trick on gold plated taps as it could cause pitting. Lemon juice will also help remove hard water stains and other marks on glass shower screens. Use straight lemon juice on a sponge for tough jobs or dilute a few tablespoons in a cup of water and spray it on.
5. Essential Oils
Essential oils are natural and powerful cleaning agents that can be added to your cleaning solutions to enhance their cleaning power and add a pleasant scent. Tea tree oil is a great disinfectant, while lavender oil can help to freshen the air. Recommended brand: Young Living is the original essential oil powerhouse and is well-known for their high-quality essential oils.
Holistic Cleaning Alternatives:
Below, are holistic cleaning alternatives to common household cleaning products.
All-purpose cleaner
Thieves Household Cleaner is a plant-based, ultra-concentrated cleaner that can be
used on virtually every surface of your home… bathrooms, kitchens, cabinets, counters,
floors, furniture, toys, carpets, mirrors, glass, wood, walls, and more! It's the only cleaner I use!
And it's safe to use around your pets and kids, too. It's created with naturally occurring
surfactants derived from coconut and sugars, so you get a powerful clean without
harmful, abrasive chemicals. It's even septic safe.
Tip: Because its ultra-concentrated, add one capful to every 2 cups of water and you've got an all-purpose cleaner.
Laundry detergent
Thieves Laundry Soap. It is made of plant-based ingredients and leaves no chemical or synthetic residue so you can snuggle up with NO worries! It contains natural enzymes and cleaning agents and of course, the most powerful essential oils on the planet. Your clothes will be fresh and clean and left with a light citrus scent, not a heavy perfume. To double to use of your laundry detergent, remove 16 ounces of soap from the bottle and add to another container (I bought mine off Amazon) [Note: I do not earn commission, this is just my opinion]. Add 3 capfuls of Thieves cleaner (optional), and add 16 ounces of distilled water and gently shake.
Cinnamon Oil
Cinnamon oil is antibacterial and antiseptic, and it's a natural home deodorizer and can help kill off serious viruses and bacteria. Nothing makes your home smell more inviting than cinnamon!
Mold resistant spray:
1 cup of water

1/2 cup of white vinegar

20 drops of cinnamon oil

10 drops of rosemary

10 drops of lemon
Shake in spray bottle to combine. Use on mold, mildew, and throughout the house.
Pine Oil
Pine is great for killing household germs like yeast spores and E.coli. It's also great against mold and mildew. A lot of people prefer pine as opposed to lemon for a fresh, clean scent. Use pine oil to cleanse the home of bacteria, fungi, pathogens, and yeast. It also helps kill odors and purify the air. Use it on large surfaces, like walls and floors to clean and purify.
Note
: Young Living oils can only be purchased through a person. If you are interested in learning more about Young Living and all the benefits, please reach out to me
here
, or you can order Young Living
here
! [Here I do earn a small commission]
Summary
There are many holistic cleaning alternatives available that can be just as effective as traditional cleaning products. Brands like Heinz, Arm & Hammer, Dr. Bronner's, Santa Cruz Organic, Young Living Essential Oils that offer safe and natural options.

Sources
https://www.ewg.org/news-insights/news/2022/10/personal-care-product-chemicals-banned-europe-still-found-us
https://branchbasics.com/blogs/healthy-living/23-sources-of-formaldehyde-to-remove
https://www.youngliving.com/blog/all-natural-cleaning-products/
https://www.theguardian.com/environment/2022/apr/25/eu-unveils-plan-largest-ever-ban-on-dangerous-chemicals
https://www.ewg.org/news-insights/news/2022/10/personal-care-product-chemicals-banned-europe-still-found-us
https://sway.office.com/XMRAy0i0MXeWvLud
https://www.homerev.com/blogs/home-revolution/9-essential-oils-for-cleaning
https://wspehsu.ucsf.edu/wp-content/uploads/2015/10/FactSheet_Microfiber.pdf
---